Looking to Volunteer Host in a BC Provincial Park?
Quality Recreation Ltd. has filled all hosting opportunities with full hookup accommodation for 2018. We are happy to receive your application or questions regarding volunteer Park Hosts positions and will keep you applicants in mind should something come available at any point this season or for 2019.
Shorter Term Hosting Opportunities
We have shorter term hosting opportunities at some of our smaller rustic parks in the South Okanagan / Boundary Region. We require a minimum 6 weeks consecutive hosting commitment at these parks. Parks include Boundary Creek, Jewel Lake, Johnstone Creek, and Nancy Greene. All sites at these rustic parks DO NOT HAVE POWER, WATER or SEWER.
Park Host positions are well-suited for the semi-retired or retired couples who love people and enjoy working in the great outdoors.
Hosting is a non-paid position assisting our Park Operators and is meant to enhance the enjoyment for our park patrons. Park Hosts are an integral part of our team and help to welcome visitors, provide park and tourism information, sell firewood and ice, open or close park gates, and help with other light duties.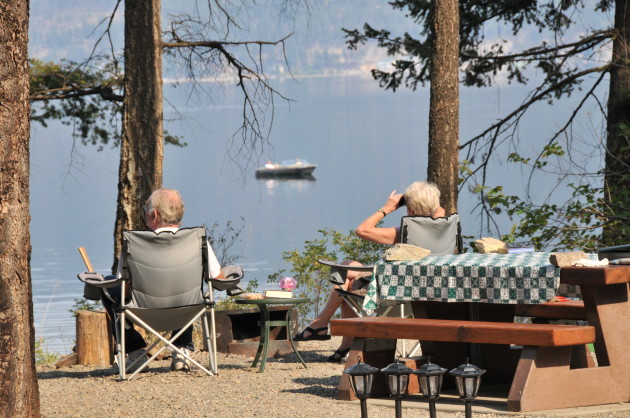 In exchange for volunteer hours, the volunteer is given free camping in the park in a site with hookups. Hosts are required from early or mid-May until mid-September. Hosts will be asked to be on duty and available to answer questions for a MINIMUM of 4 hours a day, 5 days a week, preferably in the afternoons and/or evenings and on weekends.
In addition, some Park Hosts wish to work part-time as Park Operators for remuneration. It is possible (not mandatory) for Park Hosts to also work part-time as Park Operators. This is a paid position and duties can include fee collection, enforcement, painting, raking, site cleaning, and bathroom cleaning.
Applicants Must Submit:
Resume of individual or couple (including references)
Indicate the park(s) of interest
Indicate if either individual would like to work for pay (in addition to hosting)
Indicate your availability (start and end date)
All applicants must be bondable and able to pass a criminal record check that includes the section working with children and vulnerable people.
If you are interested in working as a volunteer or would like more information, please email Jeff Kuly at info@explorebcparks.ca.
Thank you for your interest!