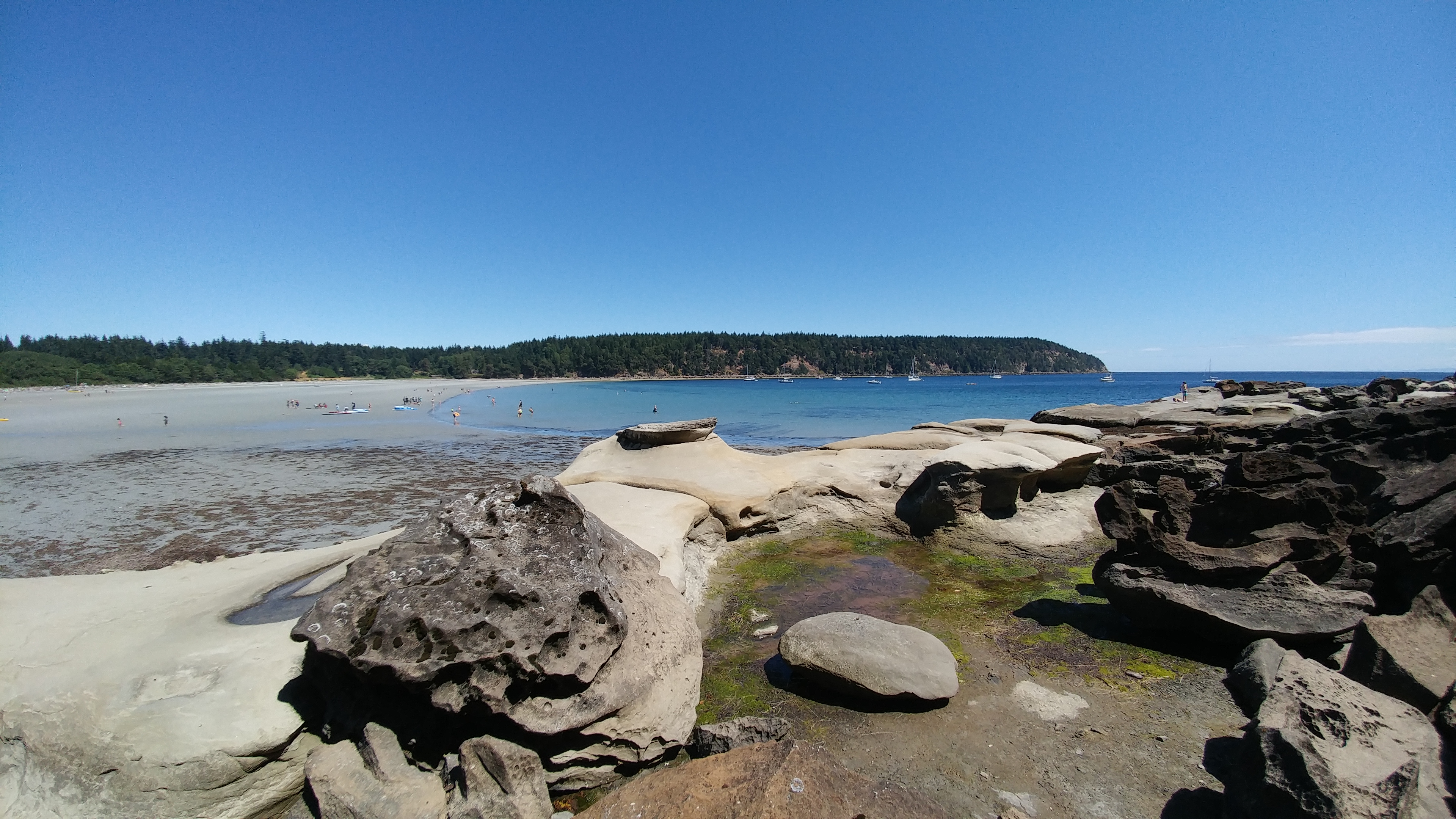 Facilities and Activities:








DAY-USE OPERATING DATES: Open year round.
Tribune Bay Provincial Park: One of the warmest salt water swimming spots in BC and home to an impressive collection of driftwood. Come explore this unique beach and its kilometer-long stretch of beautiful white sand and ocean treasures!
Tribune Bay on Hornby Island is easily one of the most spectacular spots to visit on the east side of Vancouver Island. Nicknamed, "Little Hawaii," the park is an extremely popular spot where tourists flock to enjoy the white sandy beaches and the warm, shallow water. The south-facing water heats to tropical temperatures during the summer and the bay is considered to be one of the warmest salt water swimming areas in BC.
Tribune Bay Provincial Park is located on Hornby Island. To get to Hornby, visitors should take Buckley Bay exit #101 from Hwy #19 and then take the Denman Island Ferry. Once on Denman Island, follow Denman Road to the Hornby Island Ferry terminal. A second short ferry ride will put you on Hornby Island; from there follow the main road to the Hornby Island CO-OP and then turn left following Central Road to the entrance to the park.
The park is wonderful to visit in the spring, as the hillside above the beach is full of blooming wildflowers and a 5-min. stroll from the bay will lead you to downtown Hornby Island. Hornby Island is an eclectic community of artists and artisans with a unique assortment of shops and services. Visitors often choose to go sightseeing along the bluffs at the popular Helliwell Provincial Park, which is nearby.
 
The park has picnic shelter at the bottom of the meadow and overlooking the paradise of the Bay. There are also pit toilets, a picnic table, and a tennis court.
 
There is no overnight camping or campfires permitted in this park. The consumption of alcohol is strictly prohibited. Park Act Regulations and Liquor Licensing and Control Act Regulations will be strictly enforced throughout the summer. Dogs are not allowed on the beach at Tribune Bay Provincial Park.
There is no overnight camping at this location. Nearby Fillongley Provincial Park on Denman Island is the closest camping available.

There are pit toilets at this park.



Some facilities at this park are wheelchair accessible.



There is a covered picnic shelter located just off the beach.



The sandy beaches and warm waters are ideal for swimming. Swimming is a popular activity during the summer. There are no lifeguards on duty.


Tribune Bay is a great spot to picnic or walk the beach amongst the collection of driftwood.



Canoeing opportunities exist at this park.



Kayaking opportunities exist at this park.